CNE Series
MODEL
CNE-20
CNE-26
Capacity
No. of control axis
2 Axis
Swing over bed
Ø630mm (24.8")
Standard turning diameter
H10....Ø230mm (9.05") / H12....Ø300mm (11.81")
Maximum turning diameter
H10....Ø300mm (11.81") / H12....Ø340mm (13.38")
Work length
600mm (23.62")
580mm (22.83")
Headstock
and Main Spindle
Spindle nose, internal taper
A2-6, Ø69 Taper 1/20
A2-6, Ø81 Taper 1/20
Spindle bore
Ø65mm (2.56")
Ø78mm (3.07")
Bar capacity
Ø52mm (2.04")
Ø65mm (2.56")
Hydraulic power chuck
Ø210mm (8")
Ø254mm (10")
Range of spindle speed
45-4500 R.P.M.
35-3500 R.P.M.
Front bearing ID. of spindle
Ø100mm (3.937")
Ø120mm (4.724")
Cross Slide
(X-axis)
and Carriage
(Z-axis)
Cross slide travel (X-axis)
H10....Ø190mm (7.48") / H12....Ø207mm (8.15")
Longitudinal travel (Z-axis)
610mm (24")
590mm (23.23")
AC servo motor ( X-axis )
1.6kW 8N.m ~ FANUC α8/3000i
AC servo motor ( Z-axis )
3.0kW 12N.m ~ FANUC α12/3000i
Dia. of ball screw ( X-axis)
Ø32mm (1.26") P5 C3
Dia. of ball screw ( Z-axis )
Ø40mm (1.57") P10 C3
Rapid traverse speed ( X-axis )
15m/min (590 ipm)
Rapid traverse speed ( Z-axis )
20m/min (787 ipm)
Cutting feed rate (Both axis)
0.001-500mm/rev.
Turret
Tool station (Random)
H10....10 tools / H 12....12 tools
Size of external turning tool
H10....☐25mm / H12....☐20mm
Boring bar diameter
H10....Ø40mm(1.575") / H12....Ø32mm(1.26")
Tailstock
Quill diameter
Ø85mm (3.346")
Quill travel
120mm (4.72")
Taper of center
MT. No.4
Tailstock travel
550mm (21.65")
Motor
Main spindle (continuous rated)
STD. AC9kW (12HP) OPT. AC11kW (15HP)
STD. AC11kW (15HP) OPT. AC15kW (20HP)
Main spindle (30 min. rated)
STD. AC11kW (15HP) OPT. AC15kW (20HP)
STD. AC15kW (20HP) OPT. AC18.5kW (25HP)
Hydraulic oil pump
2.2 kW (3HP)
Coolant pump
375W (0.5HP)
Tank Capacity
Hydraulic tank
65 Litre (14.3 gal.)
Coolant tank
180 Litre(39.6 gal.)
Measurements
Weight ( Net / Gross ) Approx.
5200kgs/5700kgs
5500kgs/6000kgs
Packing sizes
Length
400mm (157.5")
Width x Height
Width 1890mm(74.41") x Height 2230mm(87.8")
Specifications subject to change without notice.
CNE-20/H12 TOOLING INTERFERENCE
(Hydraulic turret 12 station, Tool holder Ø32, Tool shank ☐20) Unit:mm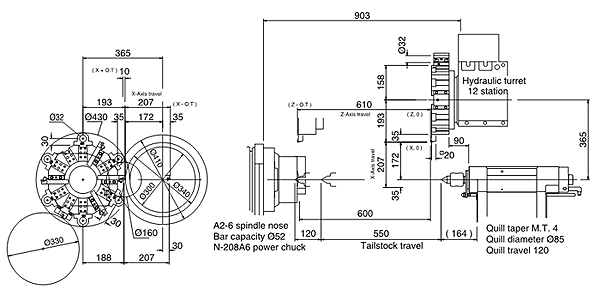 ---
CNE-26/H10 TOOLING INTERFERENCE
(Hydraulic turret 10 station, Tool holder Ø40, Tool shank ☐25) Unit:mm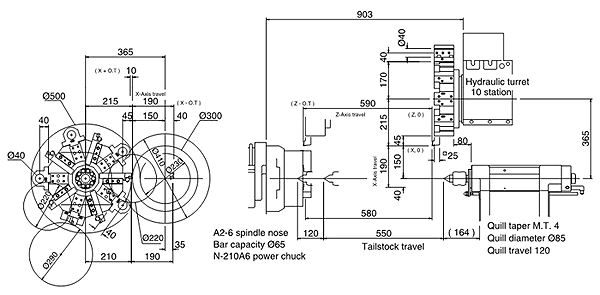 ---
SPINDLE STRUCTURE
(A2-6 Spindle nose, Bar capacity Ø52, N-208A6 power chuck) Unit:mm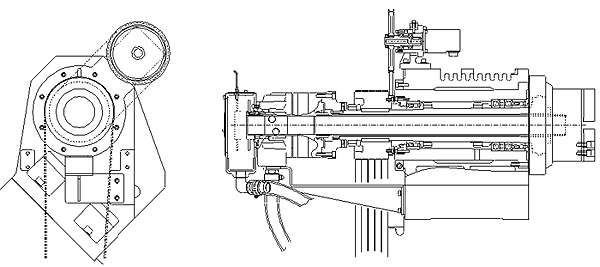 Standard Accessories:
CNC controller: FANUC 0i - TC
Boring bar holder........2sets.
O.D./facing tool holder....2sets.
U drill holder...................1set.
Boring socket : For H10....
* Ø12/Ø16/Ø20/Ø25/Ø32...1piece for each
* Drilling socket MT.3 x Ø40....1piece
Boring socket : For H12....
* Ø12/Ø16/Ø20/Ø25....1piece for each
* Drilling socket MT.2 xØ32....1piece
Chip conveyor & chip bucket cart.
Pedal switch for chuck open & close.
Hydraulic hollow chuck with rotary cylinder.
Programmable tailstock with hydraulic clamp system.
Hydraulic system with tank for power chuck, turret & tailstock quill.
Work light.
Coolant system.
Heat exchanger.
Rotating center MT.4......1set
Machining finishing lamp.
Auto lubrication system.
Level pads .....6pcs.
Toolset & box.
Operation manual.
Maintenance manual.
Optional Accessories:
Auto door.
Transformer.
Collet chuck.
Parts catcher.
Auto tool pre-setter.
CE configuration.
Auto bar feeder w/interface.
Air blow system
VDI 30 x 12 tools / ☐20mm electronic type turret.
Cs axis control & function with break system / VDI 30 revolving tool turret.
Optimum Structural Design A New Definition for Rigidity and Stability
With years of efforts of research and development, the Shun Chuan's slant bed CNC lathe will offer the unique rigidity. The design concept behind the CNE-20 / CNE-26 series is to enhance heavy duty, precision and stability. With its excellent machine structure, you can handle heavy cutting with more ease than ever before.

Complete Oil Fluid Separation
In addition to the oil fluid separation design on X- and Z-axes, the cutting fluid tank is specially designed with a labyrinth construction to fully exhaust the floating oil.
This assures no oil in the cutting fluid. Double filters in the fluid tank to ensure a clean recirculated fluid.

Programmable Tailstock
The ruggedly constructed, programmable tailstock and quill movement can be controlled on the control panel for easy set-up and accurate positioning.
Tailstock movement is driven by turret slide.

Tool Pre-Setter
The tool pre-setter effectively reduces cutting tests while saving machining time.
The mechanism is used for measuring the tool diameter and length.
The tool adjustment arm is powered and program controlled.

Powerful Spindle Drive
The spindle is driven by a powerful motor, providing great horsepower output for heavy duty machining.