CH-V Series

Variable Speed Lathe
CH-V Series
Variable Speed Lathe
Specification sheet of CH series Oil-Field lathe
Model 
CH-2260V / 2290V / 22120V
22160V / 22200V
CH-2660V / 2690V / 26120V
26160V / 26200V
CH-3060V / 3090V / 30120V
30160V / 30200V
Capacity
Swing over bed
560 mm (22")
660 mm (26")
760 mm (30")
Swing in gap
Ø797 mm (31.37")
Ø892 mm (35.11")
Ø990 mm (38.97")
Swing over cross slide
Ø340 mm (13.38")
Ø445 mm (17.51")
Ø548 mm (21.57")
Gap width in front of faceplate
270 mm (10.63")
Distance between centers
1500 mm (60"), 2300 mm (90"), 3000 mm (120"), 4000 mm (160"), 5000 mm (200")
Width of bed
400 mm (15.75")
Top slide travel
228 mm (8.98")
Cross slide travel
400 mm (15.75")
Headstock & Main spindle
         
Spindle nose type
D1-11
Spindle center sleeve
MT#7 x MT#5
Spindle bore
Ø104 mm (4.094")
Spindle speed
4 steps
Speed range (60 Hz)
N1: 20 ~ 109 rpm; N2: 45 ~ 240 rpm; N3: 140 ~ 740 rpm; N4: 310 ~ 1600 rpm
Threads and Feeds
         
Whitworth threads kinds / range
44 Kinds / 2 ~ 72 T.P.I.
Metric threads kinds / range
39 Kinds / 0.2 ~ 14 mm
Diameter of leadscrew
Ø45 mm (1.77")
Pitch of leadscrew
4 TPI, P = 6 mm
Longitudinal feeds
Metric: 0.035 ~ 0.98 mm / rev; INCH: 0.0012 ~ 0.039 / rev
Cross feeds
Metric: 0.011 ~ 0.296 mm / rev; INCH: 0.0004 ~ 0.0117 / rev
Tailstock
         
Quill diameter
Ø80 mm (3.15")
Quill travel
250 mm (10")
Taper of center
MT # 5
Motor
         
Main spindle
15 HP (11.25 kW) Motor + 20 HP (15 kW) Inverter
Coolant pump
1/8 HP
Measurement
         
Weight Approx
60"
2860
2950
3040
Net weight (KG)
90"
3310
3400
3490
 
120"
3545
3635
3725
 
160"
4150
4240
4330
 
200"
4600
4690
4780
Packing size length
3255 mm (128.14") / 4055 mm (159.64") / 4755 mm (187.2") / 5755 mm (226.57") / 6755 mm (265.94")
Width x Height
Width: 1150 mm (45.27 "); Height: 1700 mm (66.9")
Specifications subject to change without notice.
Standard Accessories:
Backplate for 12" chuck
Dead center MT.5
Dead center MT.5 with carbide tip
Spindle center sleeve MT#7 * MT#5
Level pads......6 ~ 10 pcs
Tool set & Box
Operation manual & parts list
Full length splash guard
Halogen lamp
Optional Accessories: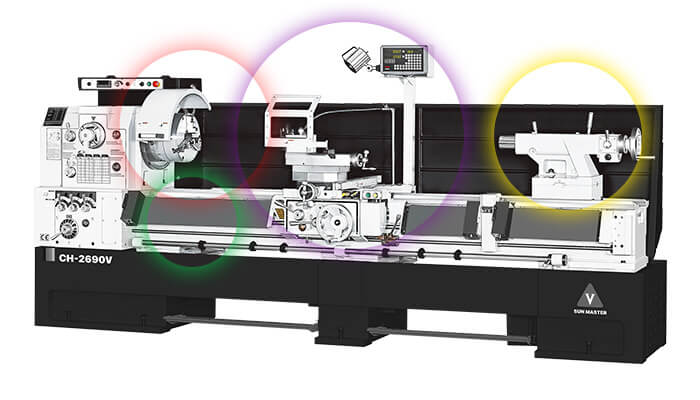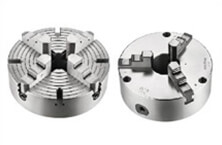 3-Jaws scroll 12" / 16" chuck
4-Jaws independent 16 / 18" chuck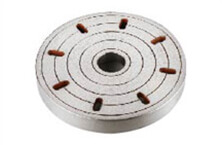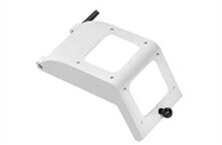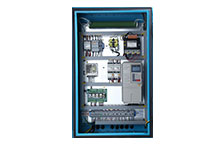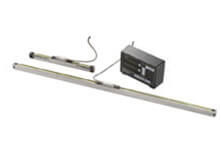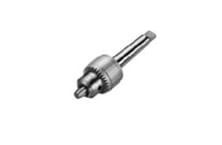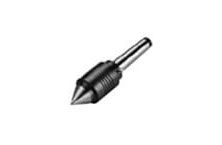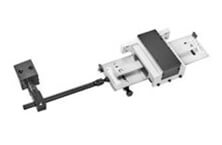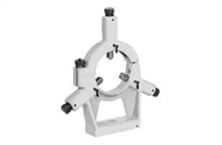 Steady rest w/ball bearing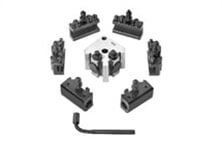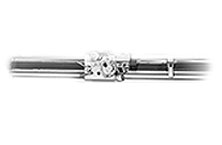 Protect cover on leadscrew for CE
All castings are properly stabilized and stress relieved.
Bed ways are hardened & ground to min. HRC48-55.
Extremely low noise level.
Foot brake pedal provided.
Wider bed way which give absorbs vibration.
Y-Δ type spindle motor equipped to make sure smooth start and operation.
Oil distributor may be adjusted to lubricate bedways, cross slide, or both.
Automatic and manual forced lubrication pump offered oil to bed ways and cross slide.

Rugged headstock
Forced lubrication to all running points.
Head housing features outstanding vibration dampening and deformation free performance.
Rugged head construction gives extra rigidity and heavy cutting.
All gears and shaft are hardened and precision ground.

Universal gearbox
The universal type gear box provides a wide range of inch & metric threads without changing any gear for increasing convenience.
Gears are hardened
Oil bath lubrication in gear box

Heavy duty spindle
Camlock type spindle
Precision machined from forged alloy steel, hardened, precision ground and dynamically balanced.
Three-point support by high precision taper roller and ball bearings eliminates chatter when performing heavy cutting.

Apron
A manual & automatic lubrication system equipped to keep the sliding ways and bedways lubricated.
Choice of right or left hand wheel.
An overload protection device equipped to avoid machine damaged.

Rugged tailstock
Tailstock quill is graduated in inch / metric scales.
It has a tang slot for positive drive of tool.
Two - step tailstock provide smoothly operation.